Hello ! And I'm sorry that I've been slacking, it's been crazy at work and inspiration hasn't been at it's best.
But I'll make up for it right now, I'll show you some youtube videos that I'm super excited about.
Firstly, there's a guy who's faking a stone wall and tree planks affect from cement.
This means that you can do this in your livingroom, bedroom, wherever you want different texture, and maybe make it a little bit more romantic.
Now, when I saw this I thought that he must have made these stencils by hand, and I still don't know if he did.
But I found this school/shop called
Decorative Concrete Training
, and they had this beauty.
Their website is terrible if you press "home", but in the link you can see the stencils they offer with many different textures.
So you can make your own, not exactly the same, but still very nice, maybe even better, depending on the project.
At
betterpaths.com
are more stamps you can buy online, there are some tree stamps there I like a lot.
And on that note I want to show you this video.
This is a great way to give your door some character, even some of your character, because no one makes things the same way twice by hand, plus you can't really see the difference between a real grain and a fake one.
I think this lamp from
Brigg
looks gorgeous.
(and they also tell you how to do this!)
These concrete coasters would look even better with some stamps on them, or paint them, for those who are good with a paint brush.
see more about these coasters
here
.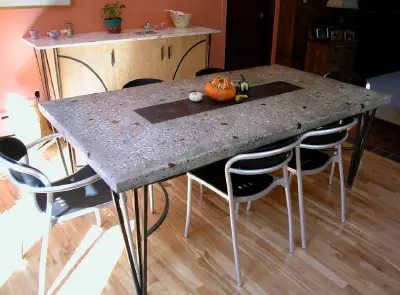 And here's a site and a project I'll leave you with, I want to make this when I'll need a countertop.
With a wood grain in it and a glass top on it.
It's a plan.
And since this blog now is about tree, I found this on my facebook wall while making this blog, this is an artist here in Iceland that makes these wonderful paintings, and she just posted this, trying new things and painting her artwork on tree drumbs, Her art is called
Helma ART
and you can see pictures of her work.
Wonderful stuff.